The family reunion committee continues to hear from family members that plan to attend the reunion on August 17TH & 18th. Others that cannot attend are submitting their family information to be included on the big family tree & in the family history book that will be printed at a later date. The reunion committee wants to let everyone know that you still have time to submit your family information whether or not you plan to attend. You may contact Keith Brohaugh at 1-218-886-6615 or Carol Vaag Johnson at 1-520-906-5894 or register the information at http://keithmelamaker.tripod.com/Registration.htm
Reunion activities begin at 10AM Saturday with registration at the Shelly Park. A dinner is planned for noon & a light evening meal at 5:30PM. Those participating in the potluck should bring a main dish & a dessert. Generous portions would be appreciated since there will be 2 meals. Everyone is asked to bring their own drinks, a cooler with ice, & lawn chairs. Everyone is welcome to attend. There will be some in attendance that will have catered food but the deadline has passed ( 8/12/02 ) to sign up for that option.
A fun day of reminiscing, sharing old photos and family information & some surprises are all planned for Saturday. The young & young at heart may play softball, basketball or tennis. Anyone who has other games is encouraged to bring them. For those wishing to visit the Red River History Museum in Shelly, it will be open Saturday from 3PM to 6PM.
Activities continue Sunday with visitors having the opportunity to attend a church of their choice. The committee is speculating that visitors will wish to visit whatever church their ancestors attended in the good old days. Church service hours are as follows: Shelly Marsh River 9AM, Zion 10:30AM, Halstad 10:30AM, Augustana 9:15AM. Coffee will be served at the Shelly Park on Sunday after church services for those who wish to gather for more visiting & reminiscing. The Red River Museum will also be open Sunday from 10AM to 3PM. Other area activities include golfing in Climax, Ada & Hillsboro.
Treasure Hut Antiques in Shelly has agreed to be open both days so that out of town visitors will have an opportunity to purchase Shelly Centennial Books, Shelly souvenirs, Shelly postcards and other local memorabilia.
We are looking for families, including those with the names: underlined names have maps for location in Norway
| | |
| --- | --- |
| | Drivdal |
| | Drivdahl |
| | Fodnestol |
| | Flikkie |
| | Flikka |
| | |
| | Haaland |
| | Holland |
| | Brohaugh |
| | Eie |
| | Eia |
| | Gjersdal |
| | Flikkeid |
| | Aamodt |
| | Carlson |
| | Olson |
| | Kolbo |
| | Robbe |
| | Speaker |
| | Scott |
| | Vaag |
| | Gjersdahl |
| | Odegaard |
| | Tonder |
| | Lee |
| | Howard |
| | Oistad |
| | Malme |

or are related to one or more of the names list above. There is a good chance that you are a relative that would like the reunion.
If you wonder if you are related, please Click here to E-mail Carol Johnson or Carol Smith , and we will work on it with you! We did have a family tree at the reunion, with all of the names of the folks who contact us. We will NOT put "living" family names and information on the website without your permission. Your privacy will always be respected. If you do not want your names in our family book, which will be finished after the reunion, please let us know.

We invited cousins from Flekkefjord to attend our reunion in Shelly, Minnesota, the place where our immigrant ancestors came to make a new home in a new land. Sigrun and Sverre Saether, Hjordis Martinson and Anne Marie Sigbjornsen have expressed their desire to come to the USA to attend a reunion for the family in Shelly. These wonderful cousins have made many of us feel so much at home in Norway, and we would love to do the same for them.

In Norway, they serve coffee and cake to their important visitors, and we can't wait to do the same for them! We would like for them to see Shelly, where all of our roots are, and to learn about what it was like for our ancestors to leave Flekkefjord and come to Minnesota, to a strange new land. We would love to show them the new museum in Shelly, and most of all, to meet all of you!

We have traced our roots back to Norway, and specifically to Flekkefjord, and our family tree is huge! Ellen Olson from Drivdal, Norway married Ole Tobias Staaleson Fodnestol Flikka. Ellen and Ole Tobias came to the USA after Nelliken Olsen Kolbo settled in Coon Prairie, Wisconsin. Nelliken was sister to Ellen. Nelliken sent money back to Norway over the years, and was responsible for many Norwegians coming to this land.

The Fodnestol farm is very near Flekkefjord, and was the birthplace of Ole Tobias. Drivdal was a farm on the Lundvannett, and was a short boat ride from Fodnestol. Ellen and Ole Tobias met and married, and lived at Flikka for quite a time before uprooting their family, and sailing for America. They followed Ellen's brave sister Nelliken, and settled in Shelly, where Nelliken had finally made her home. There are wonderful stories to share among the families, and so many memories to build at this reunion.

Our Norwegian cousins descend from the Fodnestol farm and family--the family of Ole Tobias. They knew right away who our family was when we met them. Sigrun has become our family history expert in Flekkefjord. She has introduced us to many other cousins there, and speaks very good English. Her husband Sverre and Hjordis do not have such a handle on English, but Anne Marie does.

Sigrun took us to Flikka, and showed us where the family lived. We saw where the house was, and saw the "big rock" that we have heard about in our family. The old school is still standing, and it is the nicest little community. It is fun to see Flikka at night, with the lights from the houses along the waters of the Lundevatnet.

If you have questions about how you are related to whom, please direct them to this website. We will be glad to point you in the right direction.
Just click on the Image Map for where you want to go today
Or, if your Java is not activated, try:
Sources for Norwegian and Norwegian-American Genealogy
Cemeteries By County In The USA
Ellis Island, Passengers, Manifests, More.. One-Step Webpages by Stephen P. Morse
Genealogy Today Historical Societies In The USA at Society Hill Journal Of Online Genealogy National Archives And Records Administration Norman County West High School The Records Room - Records By County In The USA Click here to find Unclaimed Money
Menu
Hillsboro Campground and RV Park - (888) 430-5205 or (701) 636-5205
K O A Se Interstate 94 MOORHEAD MN (218) 233-0671
Sunrise Apartments, Halstad (only 3 available rooms) - call Lori Merkle (218) 456-2105
Hillsboro Inn, 105 5th St. SW, Box 521, Hillsboro, ND. 701 436-5501
Norman Motel, Hwy 200 W, Ada, MN. 218 784-3781 - RV hook-ups are also available
Felton Guest House, Felton, MN. 218 494-3398
Top Notch Motel, Fertile - (218) 945-6114
Northland Inn, Crookston - (218) 281-5210
Mahnomen Motel-Travelers, Hwy 59 & 200 N, Mahnomen, MN. 218 935-2291
Shooting Star Casino & Lodge, Hwy 59 & Jefferson St., Mahnomen, MN. 218 935-2701
Dilworth Inn Hwy 10 East DILWORTH MN (218) 287-1212
Doublewood Inn 3333 13 Ave S Fargo ND 58103-3404 (701) 235-3333
Expressway Inn I 94 & S Univ Dr Fargo ND 58103 (701) 235-3141
Ramada Plaza Suites & Convention Center 1635 42nd St Sw Fargo ND 58103 (701) 277-9000
AmericInn Of Fargo 1423 35th St Sw FARGO ND (701) 234-9946
Best Western Kelly Inn 3800 Main Av FARGO ND 58103-1142 (701) 282-2143
C'Mon Inn 4338 20 Av Sw FARGO ND (701) 277-9944
Country Inn & Suites By Carlson-Fargo 3316 13 Av Sw FARGO ND 58103-3405 (701) 234-0565
Courtyard By Marriott 1080 Holiday Dr FARGO ND 58103 (701) 297-0010
Days Inn Airport/Dome Days Inn & Suites 1507 19 Av N FARGO ND 58102-1811 (701) 232-0000
Guest House Motel 2107 Se Main Ave MOORHEAD MN (218) 233-2471Hampton Inn 3431 14 Av Sw FARGO ND 58103-3414 (701) 235-5566
Holiday Inn I-29 & 13 Av S FARGO ND 58102 (701) 282-2700
Holiday Inn Express 1040 40 St Sw FARGO ND 58103-2100 (701) 282-2000
Kelly Inn 4207 13 Av Sw FARGO ND 58103-3307 (701) 277-8821
MainStay Suites 1901 44 St SW FARGO ND (701) 277-4627
Microtel Inn & Suites 1101 38 St Nw FARGO ND 58102-2942 (701) 281-2109
Motel 75 810 Belsly Blvd MOORHEAD MN (218) 233-7501
Quality Inn & Suites 301 3 Av N FARGO ND 58102-4810 (701) 232-8850
Radisson Hotel Fargo 201 5 St N FARGO ND (701) 232-7363
Red Roof Inns 901 38th St Sw FARGO ND (701) 282-9100
Rodeway Inn Of Fargo 2202 University Dr S FARGO ND 58103-5344 (701) 239-8022
Scandia Hotel 717 4 St N FARGO ND 58102-4519 (701) 232-2661
Select Inn Of Fargo-West Acres I 29 & 13 Av S FARGO ND 58103 (701) 282-6300
Sleep Inn 1921 44 St Sw FARGO ND 58103-7145 (701) 281-8240
Sunset Motel 731 Main Av W WEST FARGO ND 58078-1522 (701) 282-3266
Super 8 Motel Hwy 10 WEST FARGO ND (701) 282-7121
Travelodge & Suites 3027 Frontage Rd. S. Moorhead MN 56560 (218) 233-5333
Wingate Inn 4429 19 Av Sw FARGO ND 58103-7198 (701) 281-9133
Numerous accommodations are also available in
Grand Forks/East Grand Forks. (approximately 40-50 miles away)

Menu
Norman County Ada-Twin Valley Airport
Hector Airport West Airport Information Center (701) 241-8168
Fargo Jet Center 3801 20 St N Fargo ND 58102-0909 (701) 237-0128
Red River History Museum, Shelly MN. contacts: Nancy (218) 886-8895, Helen (218) 886-7335, Joan (218) 886-8175
Norman County Historical Society, Ada, MN. Contacts: Defloren (218) 356-8767, Ruby (218) 784-4754
Bonanzaville USA West Main Avenue MN (701) 282-2822

Children's Museum At Yunker Farm 1201 28 Av N FARGO ND 58102-1337 (701) 232-6102

Clay County Museum Archives 202 1 Av N MOORHEAD MN (218) 299-5520

Fargo Air Museum 1609 19 Ave N FARGO ND (701) 293-8043

Heritge Hjemkomst Interpretive Center 202 1st Ave N MOORHEAD MN 56560-1985 (218) 299-5511

MINNESOTA HISTORICAL SOCIETY'S 506 8TH ST S MOORHEAD MN 56560-3504 (218) 291-4211

Minnesota Historical Society's Comstock House 506 8 St S MOOREHEAD MN 56560-3504 (218) 291-4211

Plains Art Museum 704 1 Av N FARGO ND 58102-4904 (701) 232-3821

Rourke Art Gallery Museum 521 Main Av MOORHEAD MN (218) 236-8861
Shelly Township 1896
Click on picture to enlarge
This book will also be available for purchase at the Red River History Museum in Shelly.
Good Hope township 1896
click on picture to enlarge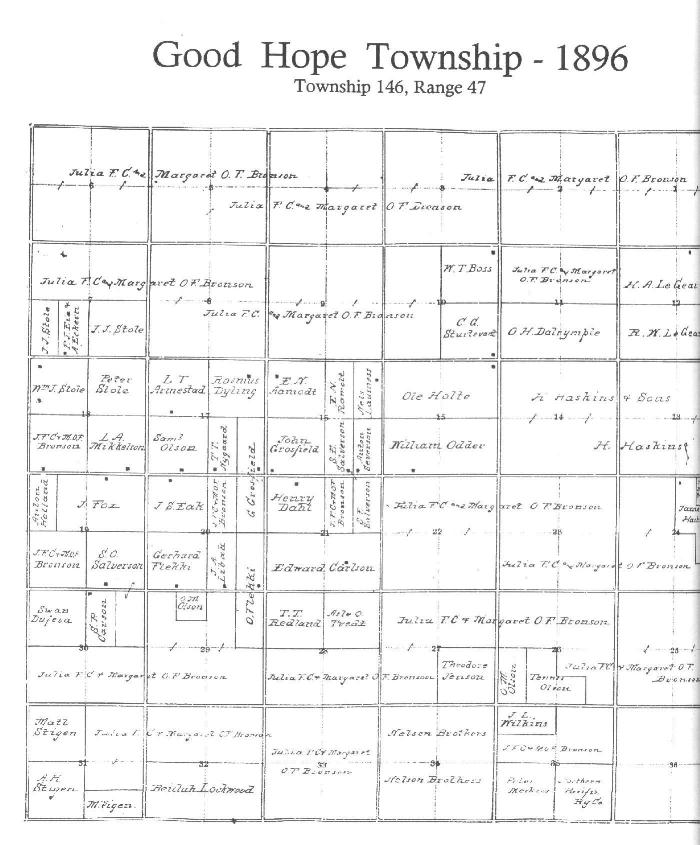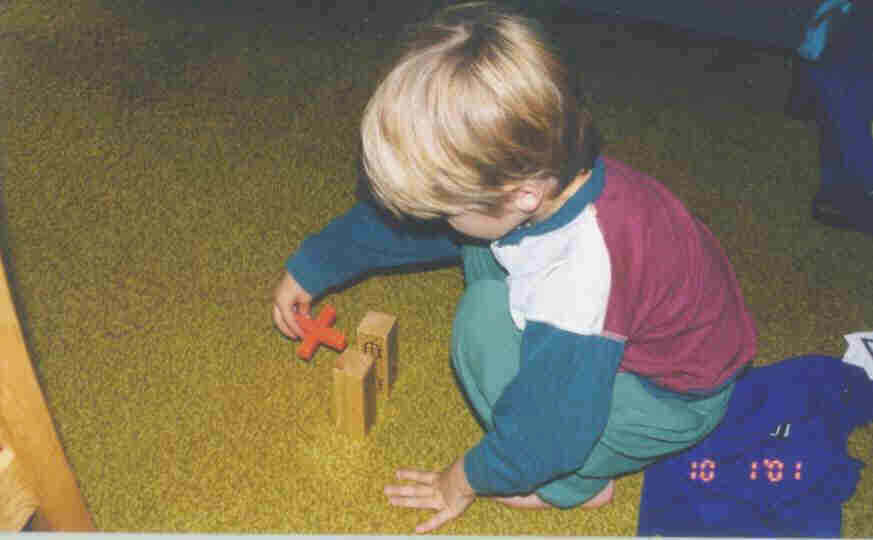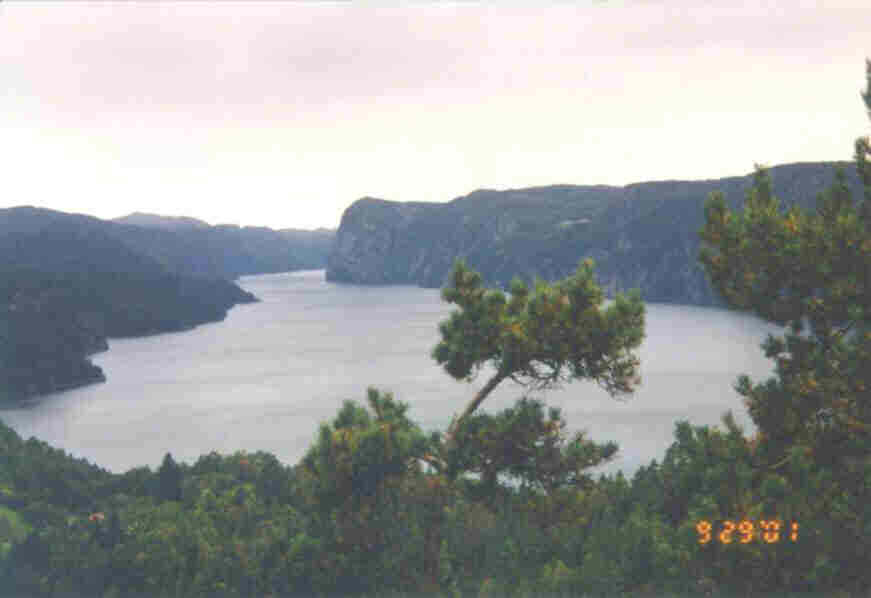 Family Group Sheet for Ole Gabriel Kristensen Drivdal and
Christina Eie
Descendants of *Ole Gabriel Kristensen Drivdal
1 *Ole Gabriel Kristensen Drivdal
. +*Kristine Elizabeth Nilsdatter Eie b: 1806 in Eie, Nes , Vest Agder, Norway d: 1876 in Drivdal, Br. 1 X, Lund, Rogaland, Norway
.... 2 *Ellen Ole-Gabrielsdtr (Olsdatter) b: Nov. 23, 1833 in Nedre Drivdal, Br. 1 X, Lund, Norway d: April 09, 1916 in Zion Cemetery,Norman Co. Shelley, MN
............ +*Ole Tobias Staleson Fodnestol Flikka b: January 18, 1833 in Fodnestol, Gr. 76 Br. 1 XIV, Nes, Vest Agder, Norway d: February 18, 1911 in Zion Cemetery, Norman Co, Shelley, MN
................... 3 Syvaert Gerhard Olsen Flikke b: April 04, 1863 in Lund, Solbjerg, Rogaland, Norway d: 1947 in Ada, Norman County, MN
..................+Karoline "Lena" Kristiandatter Drivdal b: Mar. 15, 1863 in Drivdal, Lund, Norway d: Norman Co. MN
................... 3 Oline Kristine Flikka b: Dec. 19, 1864 in Lund, Solbjerg, Rogaland, Norway d: November 22, 1922 in Halstad, Norman Co. Minnesota
....................... +John (Johannes) A. Libak b: Dec. 17, 1858 in Norway d: Nov. 18, 1938 in Halstad, Norman Co. MN
................... 3 Elise Emilie Olsen Flikka b: January 05, 1866 in Lund, Solbjerg, Rogaland, Norway d: 1912 in MN
....................... +Ole M. Olson b: January 10, 1858 in Norway d: 1951
................... 3 Olaus Olsen Flikke b: Sep. 15, 1868 in Loga, Flekkefjord, Vest Agder, Norway d: March 13, 1945 in Shelly, Norman County, MN
....................... +Inga Larsina Carlson b: Jan. 30, 1880 in Cormorant, Becker Co. MN d: February 11, 1974 in Crookston, MN
................... 3 Johan Nicoli Flikka b: Sept. 15, 1870 in NES, Vest Agder, Norway d: March 28, 1893 in Shelley, Norman County, MN
...................3 Theoline Flikka b: August 22, 1872 in Ness, Vest Agder, Norway d: March 11, 1967 in Halstad, Norman Co. , MN
....................... +Nels T. Aamodt b: 1856 in Norway d: 1935 in Halstad, Norman County, MN
................... 3 *Charlotte Olsdtr b: Oct. 28, 1874 in Flikka, Nes, Kom, Vest Agder Norway d: October 16, 1961 in Brainard, Crowing Co. MN
....................... +*Reinert J. Haaland b: May 04, 1866 in Monstremyr, Hidra Kom, Vest Agder, Norway d: July 13, 1927 in Crookston, Polk Co. MN
................... 2 Kristine Elisebet Olsdatter b: June 28, 1835 in Drivdal, Lund, Rogaland, Nor d: Feb. 17, 1927 in prob. Gjersdal, Norway
............ +Jens Hansen b: in Norway
... *2nd Husband of Kristine Elisebet Olsdatter:
............ +Jens Hansen Gjersdal b: July 08, 1831 in prob. Gjersdal, Norway d: February 09, 1918 in prob. Gjersdal, Norway
................... 3 Lise (Lisa) Marie Gjersdal b: February 07, 1863 in Gjersdal, Lund Parish, Rogaland, Norway d: 1925
....................... +Charlie Anderson d: 1924 in Sweden
................... 3 Kristiane Gjersdal b: May 10, 1864 in Gjersdal, Lund, Rogaland, Norway d: Sep. 13, 1964 in Gjersdal, Lund, Rogaland, Norway
....................... +Konrad Sivertsen Gjersdal b: February 26, 1855
................... 3 Johan Teodor Gjersdal b: May 10, 1866 in Gjersdal, Lund Parish, Rogaland, Norway
....................... +Unknown d: 1938
................... 3 Johanne Gjersdal b: April 18, 1869 in Gjersdal, Lund, Rogaland, Norway d: Nov. 26, 1955 in Manteno, IL
....................... +Harry Morris d: in prob. near Chicago, IL
................... *2nd Husband of Johanne Gjersdal:
....................... +Charles Olsen d: August 04, 1953 in Hinsdale, IL
................... 3 Olaus Gjersdal b: August 27, 1871 in Gjersdal, Lund, Rogaland, Norway d: in USA
................... 3 Karl Johan Gjersdal b: January 04, 1874 in Gjersdal, Lund, Rogaland, Norway d: in USA or Gjersdal, Norway
................... 3 Teoline Gjersdal b: January 18, 1877 in Gjersdal, Lund Parish, Rogaland, , Norway d: June 17, 1926 in Shelly, Norman Co, MN
....................... +Ole Olson. Odegaard b: December 18, 1861 in Vestre Fidje (Fidjeodegaard), Greipstad Parish, Vest Agder, Norway d: May 02, 1939 in Shelly,Norman Co. MN
................... 3 Hans Elias Gjersdal b: Nov. 06, 1879 in Gjersdal, Lund, Rogaland, Norway d: January 15, 1971 in Moi, Rogaland, Norway
....................... +Tomine Villiamsdatter Elve b: July 21, 1888 in Elve, Rogaland, Norway d: August 20, 1967 in Moi, Rogaland, Norway
... 2 Kristen Olsen Drivdal b: Oct. 18, 1838 in Nedre Drivdal, Lund or Moi,, Rogaland, Norway d: in Kleppe, Jaeren, Rogaland, Norway
............ +Gunhild Jensdatter b: June 24, 1852 in Mageland, Norway d: in Kleppe, Jaeren, Rogaland, Norway
................... 3 Ole Gabriel Kristensen Drivdal b: July 23, 1874 in Nedre Drivdal , Moi, Lund, Rogaland, Norway d: in Hamerly Church, North Dakota
................... 3 Oskar Christensen Drivdal b: December 29, 1875 in Moi, Rogaland, Norway d: May 09, 1957 in Big Timber, Sweet Grass Co, Montana
....................... +Anna Hansine Helleren b: March 17, 1880 in Moi, Lund, Norway d: 1950 in Big Timber, Montana
................... 3 Johan Arent Kristensen Drivdal b: March 20, 1878 in Nedre Drivdal , Lund, Rogaland, Norway d: 1926 in Big Tmber, Montana
................... 3 Kristen Kristensen Drivdal b: March 08, 1880 in Nedre Drivdal , Moi, Lund, Rogaland, Norway d: Jan. 01, 1949 in Spokane, Spokane, Washington
....................... +Josephine Ellingson b: November 21, 1886 in Nielsville, Polk, Minnesota d: December 09, 1980 in Spokane, Spokand, Washington
................... 3 Gustav Kristensen Drivdahl b: April 15, 1882 in Nedre Drivdal , Moi, Lund, Rogaland, Norway d: March 1967 in Oakdale, Stanislaus, California
....................... +Unknown d: in prob. California
................... 3 Krestine Kristene Drivdal b: April 28, 1884 in Nedre Drivdal , Moi, Lund, Rogaland, Norway d: November 28, 1974 in USA
....................... +Martin Strand b: May 30, 1880 d: August 01, 1932 in USA
................... 3 Anna Kristensen Drivdal b: 1888 in Nedre Drivdal , Moi, Lund, Rogaland, Norway d: in USA
....................... +Lars Mathias Hellebust
................... 3 Alfred Kristensen Drivdal b: March 02, 1891 in Nedre Drivdal , Moi, Lund, Rogaland, Norway d: April 16, 1982 in Tjome, Vestfold, Norway
....................... +Siri Tonette Ausdal (Ousdal) b: November 04, 1890 in Sirdal, Norway d: May 24, 1975 in Tjome, Vestfold, Norway
... 2 Nelliken Olsen b: September 01, 1842 in Moi, Lund, Rogaland, Norway d: February 16, 1927 in Shelly, Norman Co. MN
............ +Amund (Haagensen) Kolbo b: September 24, 1815 in Oyer, Oppland, Norway d: February 18, 1886 in Colenso (Shelly), Norman Co. MN
................... 3 Thomas Mandius Kolbo b: in Shelly, Norman Co, MN d: June 09, 1889 in Shelly, Norman Co, MN
................... 3 Adolph Nicholi Kolbo b: April 30, 1880 in Shelly, Norman Co, MN
....................... +Martha Nilson b: 1880 in Minnesota
... *2nd Husband of Nelliken Olsen:
............ +Johannes Johannesson Flikkeid b: 1836 in Flikkeid, Vest Agder, Norway d: 1874 in Coon Prairie, Wisconsin
................... 3 Sarah J. Flikke b: May 02, 1864 in Wisconsin d: August 18, 1906 in Shelly, Norman Co, MN
....................... +Andreas (Andrew) Oistad b: October 26, 1842 in Norway d: January 24, 1939
................... 3 John J. Flikkie b: July 31, 1866 in Wisconsin d: November 02, 1944 in Shelly, Norman Co, MN
....................... +Constance Adelia (Della) Sebion b: March 09, 1878 in Wisconsin d: April 16, 1970 in Moorhead, MN
................... 3 Charlotte Flikke b: 1873 in Wisconsin
....................... +Herman Neil Speaker b: 1874 in Germany
................... 3 Christine Flikke b: 1874 d: 1950 in Norman Co. Minnesota
....................... +Gullick Carlson b: 1871 d: 1943 in Norman Co. Minnesota
....................... 4 Joseph Clarence Carlson b: October 23, 1900 in Shelly, Norman Co, MN
................... 3 Josephine Flikke b: 1876
....................... +Scott
... 2 Olene Kristine Olsen b: May 23, 1847 in Moi, Lund, Rogaland, Norway d: in Westby, Wisconsin
................... 3 Anna Carlson b: November 26, 1901